Nigerian home owners have learned that artificial grass is the better choice for lawns, for many reasons. But a lot of folks don't realize how many other ways there are to use fake grass. Creative ideas range from the surprisingly practical to the truly "out there," but each idea has its own special appeal. 
Artificial grass gives personality to home projects with unexpected color and texture, and it can improve the livability of your home, indoors and out. Best of all, once you've switched to faux grass for your lawn, you have recaptured time and resources you can devote to both beautifying and enjoying your property rather than endlessly tending your lawn.
Artificial grass is easy to cut and install for simple, non-lawn projects. In many cases you can use low-cost synthetic turf from a box store. However, if you want something nicer (or more choices in pile thickness and height), consider giving us a call here at Heavenly Greens. We often have remnants from major installations, so we could have just what you want.
And get this. Artificial grass doesn't even have to be green. 
Now that you know fake grass is even more versatile than you imagined, and easy to work with, let's explore how you can use it to express your creative side.
Landscaping Beyond the Lawn
You already know artificial grass is super-durable, designed to look its fluffy best even in your highest-traffic areas. That makes it ideal for creating pathways around your yard or within your flower and veggie gardens. You can lay it out as a continuous straight or curved walkway, or cut the turf into stepping "stones" in any size and shape you like.
Use it to accentuate an intimate seating area, under a bench or a small table and a couple of chairs.
If you have existing concrete pathways or patio areas, you can transform them dramatically by instantly upgrading to grass. That's right, it's easy to cover concrete with faux grass. You can even choose the padding and infill that matches the look and feel you want. Artificial elevates the quality and appearance of upper-level patios and balconies, too. It's not only prettier than concrete, it's more comfortable, cooler, drains quickly and efficiently, and requires little effort to stay that way. 
"Temporary Landscaping" on Your Artificial Grass Lawn
Artificial grass is a lot more accommodating than natural grass when it comes to this kind of decorating. No worries about rain or dampness, because fake grass drains far better than the real thing. No puddles or mud to damage your displays (or get your shoes and clothes filthy while you're setting things up and taking them down).
And no matter the weather or how long your decorations or large-scale displays remain, they can't kill the grass. If your artificial grass becomes flattened, you can simply re-fluff it using your fingers for tiny spots or a stiff, natural bristle broom for larger areas. Good as new, green as ever, ready for its next grassy assignment.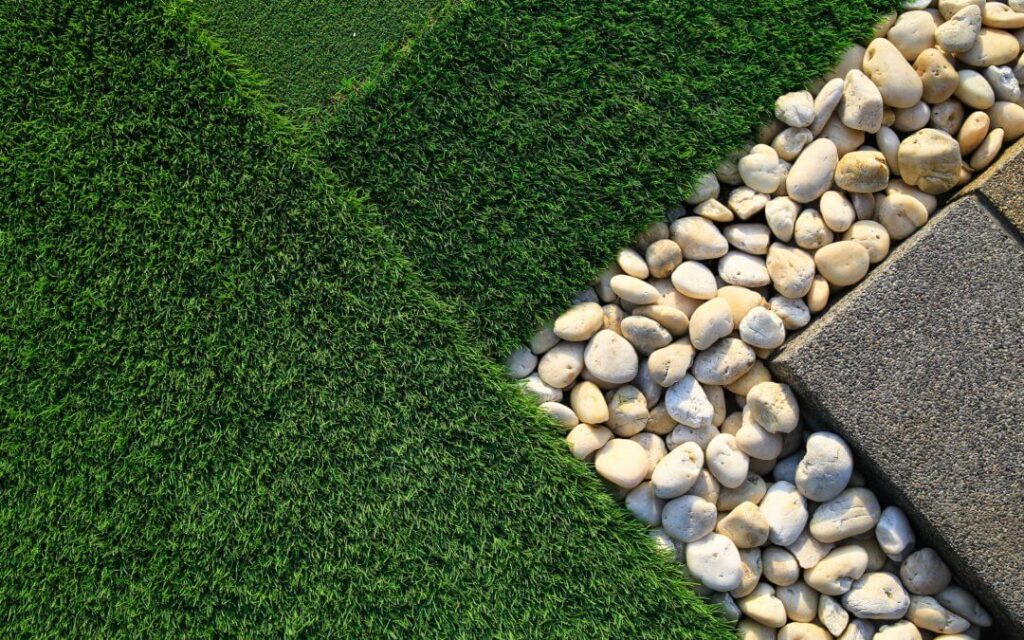 Kids and Pets Want Grassy Play Areas
Kids and pets love to play on the lawn. But sometimes it's better if they have a separate play area all their own. In the case of dogs, a fenced-in area keeps them contained when you're entertaining or away, but they can still get fresh air, run around, and do their potty business. But how much time would you want to spend sitting or walking or running on an uncomfortable surface?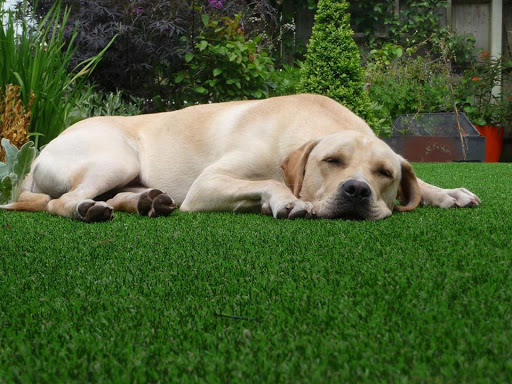 Your dear dog deserves an upgrade! Instead of gravel, bark chips, pavers, or concrete, give him artificial grass. Soft, fluffy, comfy faux flooring makes his kennel/play area inviting rather than punishing his body.
You benefit, too. Artificial grass looks great. It stays cleaner and drier. It doesn't produce mud or debris that can be tracked into your house. And it's a breeze to clean up.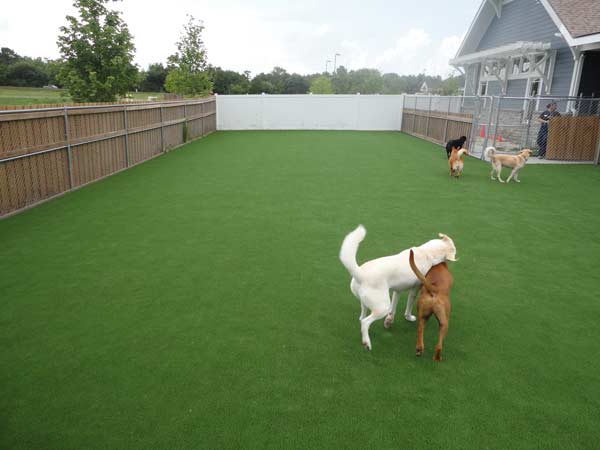 If your home includes a backyard play structure for your kids – or you're considering building one – we know one of your biggest concerns is safety. Every parent worries about their child (or the kid from down the street) falling off the swings or slide. Installing artificial grass with Heavenly Greens Fall Soft technology gives you peace of mind, because it helps cushion falls from up to 5'. Artificial grass is safer for kids in other ways, too. 
DIY with Fake Grass
Perhaps your idea of recreation isn't sports, but hobbies. Especially do-it-yourself projects. Nothing says "creativity" like making things from scratch using your own tools, materials, and ideas. Here, too, artificial grass is not only useful, it's one of the most versatile materials you can find.
What kind of projects can you do with fake grass? You can make anything "go green" or soften a surface. You can turn a bland space into something eye-catching, and make living spaces far more inviting as well as more functional. You can create unexpected decorative accents, indoors or out. Why not start a competition among your friends to see who can come up with the most imaginative idea? 
As a first project, you might want to consider covering some flower pots or planters. Or covering your child's (formerly) red wagon. Set aside time to help the kids cut shapes of turf to stick on the wall in their bedroom or bonus room.