How Artificial Grass Drains Water? One of the most sort after information regarding artificial/synthetic grass, especially from customers with natural lawns that do not receive enough or no sunlight and cannot soak up water.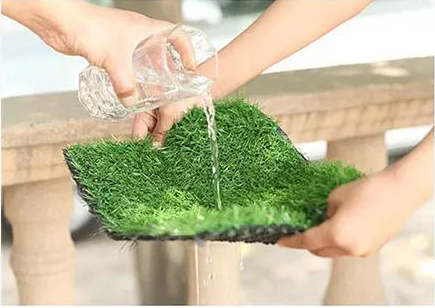 Artificial grass is devised to allow water to drain through the surface. Every one of our grass is created with a permeable latex backing, i.e. water escapes through small holes. A build-up of water on the surface of the artificial turf is prevented as long as it has a solid base. Artificial grass drains more quickly than natural grass.

Installing artificial turf in your garden will help to prevent puddles on the surface and the occurrence of muddy patches. Rainwater will naturally drain through the sub-base and into the soil just as it would with natural grass.
If you're installing artificial grass onto concrete or another hard surface outside, we recommend laying a crushed stone sub base. It acts to raise the grass off the floor and gives the water space to drain away.
The roll of grass is manufactured with a holed backing that is concealed within the pile height and not visible when laid. Water simply drains straight through these holes and into the aggregate base below.
Due to this, artificial lawns dry relatively quickly compared to regular lawns.